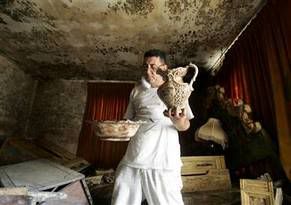 As if it wasn't bad enough already…
Mold now forms an interior version of kudzu in the soggy South, posing health dangers that will make many homes tear-downs and will force schools and hospitals to do expensive repairs.

It's a problem that any homeowner who has ever had a flooded basement or a leaky roof has faced. But the magnitude of this problem leaves many storm victims prey to unscrupulous or incompetent remediators. Home test kits for mold, for example, are worthless, experts say.

Don't expect help from insurance companies, either. Most policies were revised in the last decade to exclude mold damage because of "sick building" lawsuits alleging illnesses. Although mold's danger to those with asthma or allergies is real, there's little or no science behind other claims, and a lot of hype.
Even for those whose homes were spared the worst of the devastation, the mold problem might be too great for them to be habitable again. As anyone who's dealt with mold clean-up knows, it's a huge pain in the ass, and if you miss just a little bit it can come back with a vengeance.