I've mentioned previously that not only do I live in Iowa, I live waaaay out in rural Iowa–gravel road, mile-away neighbors, the whole shebang. I realize that's the worst nightmare of many people–living in the boonies in a "red state," but it definitely has its perks at times. This morning, my husband called me on his drive to work and said I might want to pack up the kids and drive around the block. Turns out about 16 bald eagles were in a field down the road, apparently feasting on something dead. The good news: I have a Canon camera with a crazy telephoto lens for moments just like this. The bad news: the battery was, of course, dead, and I didn't have a spare on hand. (D'oh!) So had to use the digital camera instead. You have to use your imagination a bit, but those little white dots are their heads (note that some of them are all brown–juvenile bald eagles don't have white heads). There were about 5 on the ground at that point, and ~10 or so more in the tree to the right.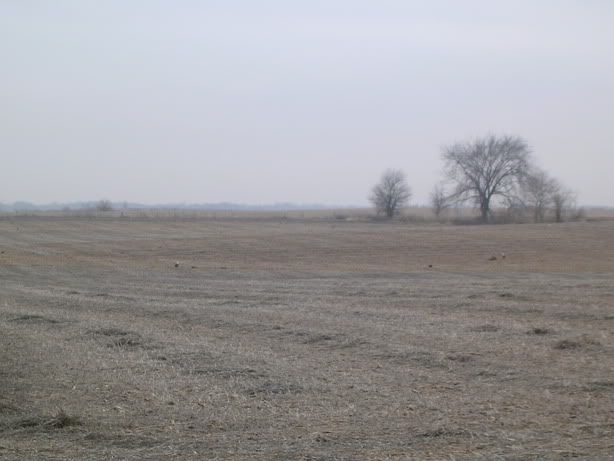 We live a few miles from a lake, and ~10 miles from each of 2 decent-sized rivers, so we see bald eagles pretty regularly in the area. (Not quite as often as those who live in Iowa towns along the Mississippi, but often enough). Last year we frequently had them in our backyard: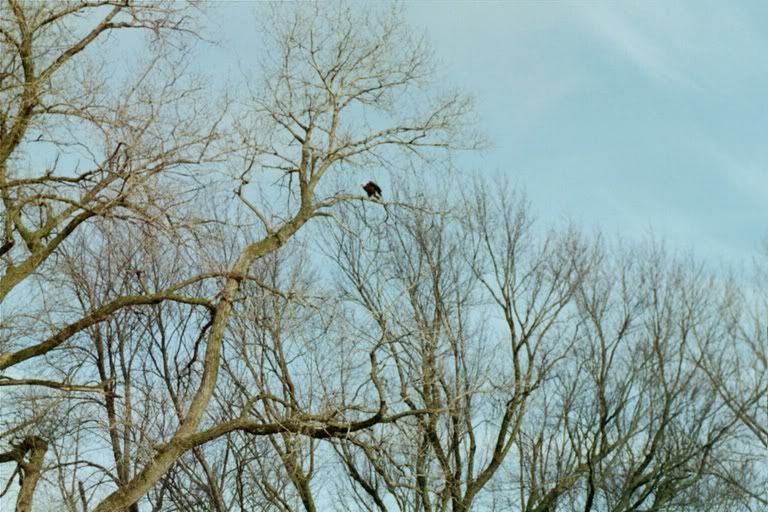 It's a great place to live if you like birds of prey. We have a raptor center nearby where they care for injured birds, and hawks are everywhere. Last summer when we were out on the lake, we watched an osprey catch fish. It was certainly doing a better job than my husband was.