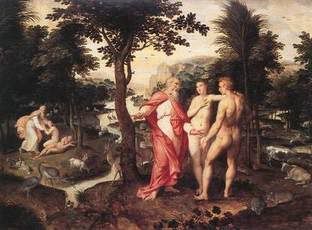 I mentioned yesterday that Mike had a post on the war on epidemiology. That might sound a bit strange–doesn't have quite the ring to it as Chris's book. But, never fear, epidemiology is indeed under attack–or, at least, it's being redefined by young earth creationists.
In a pair of articles published in the esteemed journal, Creation Research Society Quarterly, Jeffrey Schragin has put forth his argument that "the Bible's epidemiology is scientifically sound" and that the "Creation Health Model (CHM) offers a more comprehensive understanding of health and disease than standard molecules-to-man evolutionary theory."
These articles are, as might be expected, an exercise in selective use of evidence, and shoe-horning facts into a model where there is, to put it mildly, a dubious fit.

At the heart of Schragin's claims is that
the probability of health can be maximized and probability of disease, disability and suffering minimized by adhering to a lifestyle that is consistent with the purposeful design of Creation.
(Complete with a mathematical model, no less). According to Schragin, then, there are six recommendations for maximizing health and minimizing poor effects:
1. Diet should consist of natural organic foods including a variety of fruits, vegetables, nuts, herbs, and whole grains. Optimally, the diet should consist only of plant-based foods as in the initial Creation. The occasional consumption of fish is allowable; meat eating should be minimized and fats avoided.

2. Avoidance of tobacco

3. Alcohol only in moderation, if at all

4. Sexual relations within marriage only

5. Avoidance of unnecessary risk-seeking behaviors

6. Regular, moderate exercise
Sounds fairly reasonable, though I don't know many nutrition experts who'd strongly advocate #1 as a universal. Strict vegetarian diets can work, but one must be careful (as anyone should with any kind of dietary choices)–and as far as I know, there hasn't been a definitive study to show that overall, people who follow these kind of strict vegetarian (or vegan) diets have lower rates of chronic disease than their meat-eating counterparts who follow a similar healthy diet and exercise plan. Several of the others are somewhat unreasonable and may lead to an early death due to boredom, but, hey–you gotta go somehow. Anyway, all that notwithstanding, the goal of Schragin's recommendations is to re-create conditions he claims were present in the garden of Eden–hence the term he coins, "Edenomics." Since there was no death (well, no animal death) before the Fall, obviously all animals present were vegetarians. Schragin contends that if one follows an Edenomic diet, the maximal lifespan in mentioned in Genesis 6:3 of 120 years may be reached.
Schragin then displays an amazing bit of circular logic. After laying out his recommendations, he goes on to emphasize throughout the paper how important diet and behavior are to disease prevention. Toward the end, he then proposes that, if diet is important in disease development (which, of course, he's already assumed and tried to support), this shows that Biblical epidemiology–and hence, Creation–are correct. So having established that diet is important in disease development, he goes on to say that because of this, Creation is true. QED.
In Schragin's second paper, he continues this line of thought. Here, instead of emphasizing simply the importance of maintaining a Creation diet, he attacks the "failure of Darwinian evolution" to account for this observation. (Because, as everyone knows, disproving "Darwinism" subsequently proves a literal Genesis). The key, he claims, is that "the value of plant biochemicals in human nutrition–the connection to the Garden–fits with creation and is at odds with evolution." He also suggests that, because humans are "very susceptible to a wide variety of maladies after having undergone billions of years of evolution," evolution is obviously flawed. (And yes, he says humans have been evolving for billions of years–that's not a typo on my part). He suggests that evolution "would have been expected to 'create' humans less vulnerable to disease and more prolific reproductively."
Next, along a similar vein, Schragin suggests that the fact that plants produce vitamins and other chemicals that benefit humans is something that evolutionary theory simply can't explain. How can this possibly arise unless it was directed to be so by the Creator? Evolution must be false! Of course, anyone familiar with the biochemistry of these anti-oxidants and other chemicals (or who's read my post here) will know that many of these chemicals–specifically, carotenoid pigments which give so many fruits and vegetables their color–protect not only humans who eat such food, but also protect the plant (or other organism) itself. That they are beneficial to humans as well is just fortunate for us, but certainly can be explained without invoking a creator or a garden of Eden, and is perfectly compatible with evolutionary theory: as the carotenoids protect the plant, they provide a selective advantage over other competitors who do not produce such chemicals.
At this point, you may have already realized that something's missing. What about infectious diseases? Even the best nutrition will not prevent the acquisition of all infection–which are still the main cause of disease worldwide. And the fact that humans evolve on a much slower scale than their microbial pathogens suggests that a human invulnerable to disease will never exist. So Schragin takes a US-centric approach to epidemiology, focusing solely on chronic diseases such as cardiovascular disease and cancer, and, of course, leaving out cancers and other "chronic" diseases which have infectious components. (As well as focusing on mortality over morbidity–cancer and cardiovascular disease may be the most common causes of death in the US, but each and every one of us are much more commonly sickened by infectious agents, even if they don't eventually lead to our demise). He also, of course, ignores the Bible's use of "infectious disease as God's wrath:" a supernatural plague caused by a grumpy deity isn't exactly consistent with modern-day epidemiology.
Finally, why doesn't Edenomics apply to all animals? According to the Creation model, all living species are descended from their original "kind" that was present in the Garden of Eden–and all would have been vegetarians. So why wouldn't lions, and crocodiles, and eagles etc. similarly benefit from a strictly vegetarian diet today? This, of course, goes unaddressed–because, well, all those other animals weren't God's special creation, so who cares about them? Plus, I think even YECs know they look silly when they discuss sharks and tigers chowin' down on a nice, ripe tomato.
The final word: I don't expect Edenomics to be taught in my department anytime soon.
Thanks to Glenn Branch of the NCSE for the references.
References
Schragin, JG. 2004. Epidemiology and the Creation Health Model. Creation Research Society Quarterly. 41:185-94.
Schragin, JG. 2005. The Bible, Epidemiology, and Edenomics. Creation Research Society Quarterly. 42:115-25.