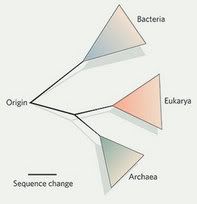 So, archaea are apparently the topic of the week. While I wrote here about the pathogenic potential of some species of these organisms, a new essay in Nature and a new review in Science focus more on their evolution (and the evolution of the other two domains of life) than any health application.
In the essay mentioned, Norman Pace discusses the eukaryote/prokaryote dichotomy. Currently the archaea are classified as prokaryotes since they, like bacteria, lack a true nucleus. However, molecular sequence analysis has shown that the archaea and eukaryotes are actually more closely related to each other than either group is to bacteria (see figure, from Pace's Nature essay). As such, nomenclature that places the bacteria and archaea together into a group is misleading.

Pace mentions that one argument in favor of maintaining the status quo is that "prokaryote" is useful as a characterization for non-eukaryotes. However, he argues that this is a definition using what a prokaryote isn't, instead of what it is. Pace concludes:
I believe it is critical to shake loose from the prokaryote/eukaryote concept. It is outdated, a guesswork solution to an articulation of biological diversity and an incorrect model for the course of evolution. Because it has long been used by all texts of biology, it is hard to stop using the word, prokaryote. But the next time you are inclined to do so, think what you teach your students: a wrong idea.
One problem stems from the etymology of "prokaryote" and "eukaryote." I'm no language scholar so I'm relying on what I've been taught by others (and, of course, good ol' Wikipedia) for the origin of the word: "from Old Greek pro- before + karyon nut or kernel, referring to the cell nucleus". Eukaryote, then, means "true nucleus" (or "good nucleus", according to Wiki). These terms suggest that prokaryotes came before eukaryotes–which indeed, is the generally-accepted scheme.
A second publication in today's Science takes a closer look at the evolution of all of these domains of life, and suggests that some commonly-held views may be a bit backward.
It is now generally accepted that some organelles in eukaryotes–specifically, mitochondria and chloroplasts–were originally free-living bacterial species, and that a symbiotic relationship between these bacteria and the primitive eukaryotes (or their ancestors) resulted in their retention and subsequent specialization as organelles. However, the suggestion in the Science review turns this a bit on its head–rather than viewing eukaryotes as kind of a souped-up model loaded with features lacking in their precursors, it suggests that eukaryotes may have actually been the precursors themselves, and that the bacteria and archaea then split from the early eukaryotes (rather than being a product of a bacteria-archaea symbiosis, as some have suggested). While I doubt it will reverse common thinking regarding the evolution of the three domains of life, it's an interesting read, and they draw on a large body of molecular analysis to support their case.
Of course, the news write-ups of this are rather predictable. MSNBC asks, "can evolution make things less complicated?" It's also stated that, assuming this new research is confirmed, it will be "contrary to our cherished notion that evolution makes organisms more complex."
Um, huh? Whose cherished notion?
3 paragraphs later they even note that "if bacteria did take the road toward greater simplicity, they would be in good company. Scientists have identified several cases of genome reduction in organisms…" Indeed, we've seen this in several pathogenic species of bacteria (Mycobacterium leprae, the causative agent of leprosy, for one). Additionally, in the same issue of Science that the Kurland review was published is a study showing some benefits to E. coli due to selective elimination of parts of the genome:
Genome reduction also led to unanticipated beneficial properties: high electroporation efficiency and accurate propagation of recombinant genes and plasmids that were unstable in other strains.
So if "complexity" is defined as genome size, certainly there are many examples of where it has decreased over time, or where a huge genome doesn't necessarily represent what most people consider a "complex" organism (or at least, one that's less "complex" than humans, if you follow the "evolution as an increase in complexity to the ultimate organism, man" line of reasoning). I think these types of thought are more important to get right in our students than worrying so much about what to call the main groups of organisms (though "the organisms formerly known as prokaryotes" has a nice ring to it–perhaps we can just start referring to them with a symbol).
References
Pace, NR. 2006. Time for a change. Nature 441:289.
Kurland, GC et al. 2006. Genomics and the irreducible nature of eukaryote cells. Science 312:1011 – 1014.
Images from http://www.nature.com/nature/journal/v441/n7091/images/441289a-i1.0.jpg and http://www.sciencemag.org/cgi/content/full/312/5776/1011/FIG1