I feel a bit guilty. I still get occasional comments on this post about the outbreak of chikungunya on several islands in the Indian Ocean. Since I'm obviously not involved in the actual outbreak investigation, all I have to offer is news reported elsewhere–and it's not exactly been a landslide of information. However, Nature does have some news to offer, based largely on a new paper published in PLoS Medicine (summary here).

Previously, the complete genomes of three isolates of the virus had been determined. Two were from strains isolated in 1952 during the first known Chikungunya outbreak, and the third is from an outbreak in 1983 in Senegal. In this new study, the authors determined most of the genetic sequence from 6 additional viruses taken from patients in different geographic locations, at different time points during the outbreak, and from patients with different clinical presentations. Additionally, they sequenced a portion of a gene encoding a membrane glycoprotein in 127 other viral isolates. They found that one strain (E1-226V, see below) emerged during the outbreak and increased in frequency over the past several months as the outbreak has become more severe. Interestingly, this particular mutation has previously been found to release the cholesterol dependence of the related Semliki Forest virus–in other words, it no longer needed cholesterol in order to fuse its virus membrane with the host cell membrane.
As noted in the Nature summary:
The outbreak seems to be more severe than the sporadic occurrences of chikungunya that have hit Africa and Asia in the past: it has spread like wildfire, infecting some people's nervous systems and even killing a fraction of its victims.
The authors suggest that the E1-226V mutation may provide the virus with a selective advantage in its mosquito host, but this hasn't been experimentally tested. This could be one reason the outbreak has been more severe: more infected mosquitoes, more chances to infect humans, greater numbers of deaths.
Second, they used the data from the sequenced isolates to put forth an evolutionary scenario of isolates. It's a lot of information, documenting the nucleotide changes in the 6 sequenced isolates; note the increase in the E1-226V strain: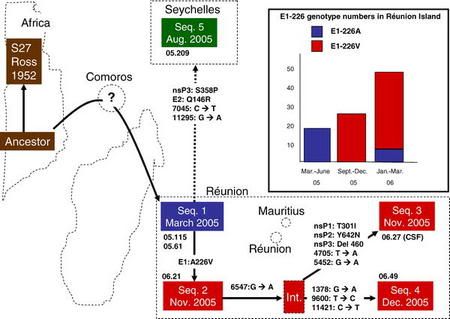 Finally, I want to return to the Nature summary and emphasize one quote:
Until now, chikungunya virus and its relatives were studied by only a handful of scientists. "There was the attitude that if it doesn't kill people it's not important," says Scott Weaver, who studies this family of viruses, also at the University of Texas.
I've received some grief on here for spending so much time and energy discussing H5N1 or other microbes that currently aren't a big cause of mortality in the human population, but this chikungunya outbreak shows how a fairly "insignificant" microbe can suddenly become a major player.
Reference
Schuffenecker et al. 2006. Genome Microevolution of Chikungunya Viruses Causing the Indian Ocean Outbreak. PLoS Medicine. 3(7): e263. Link.
Image from http://medicine.plosjournals.org/archive/1549-1676/3/7/figure/10.1371_journal.pmed.0030263.g003-M.jpg