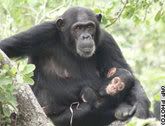 It can't be said often enough that "nothing in biology makes sense except in the light of evolution." Moving from physical characteristics–color, bone shape, the form of bacterial cells–to genetic characteristics in order to classify organisms–and infer phylogenies–was a giant advance. That the molecular characteristics confirmed what was known using physical characteristics was a breakthrough, and allowed for more sophisticated analyses of organisms that don't have bones or other easily-observable physical features that allow for simple classification into groups: microbes. I've previously pointed out the utility of phylogenetic analysis in tracking the spread of pathogens. A new study on the origin and evolution of HIV employs a similar approach in order to elucidate the history of the virus in Africa.

It's been known for over 15 years that viruses related to HIV type 1 (the most common type; a nice overview of different types and strains of HIV can be found here) could be found in non-human primates. This related virus is called the simian immunodeficiency virus (SIV). Like HIV, there are a number of different strains of SIV; the type that was previously detected in chimpanzees is therefore designated SIVcpz, to show it's from chimps (or even more specifically, SIVcpzPtt for isolates that come from the chimpanzee species Pan troglodytes troglodytes.)
The virus hadn't, however, been studied previously in chimps out in the wild, for a number of reasons. These chimps are endangered and reclusive, and live in remote areas where they are difficult to study. Therefore, our knowledge of SIVcpz in chimpanzees comes from studies done in captive animals. A combination of new methods has allowed researchers to track the virus in wild chimps in the west central African nation of Cameroon.
I mentioned how much you can learn from, well, animal shit. That's exactly what this study boils down to. Researchers collected almost 600 fecal samples from 10 sites in southern Cameroon. From these, they did three tests. One, they extracted DNA in order to examine the mitochondrial DNA of the chimp who'd been kind enough to provide the fecal sample. From this, it was found that 423 of them were the same subspecies: Pan troglodytes troglodytes. All samples were then tested for HIV-1 antibodies; 34 samples were positive, all from P. t. troglodytes. These antibody-positive samples were further examined using the polymerase chain reaction (PCR) to amplify viral genes. Additionally, they were able to examine portions in the chimp DNA that allowed them to distinguish individuals (so that it could be determined how many different chimps were represented by the positive fecal samples). They found they came from 16 different chimps–7 males, 9 females.
But all this was just the beginning. They then analyzed the genetic sequences of these 16 new viruses they collected and compared them to previously-identified viruses. They carried out these phylogenetic analyses using both individual genes as well as the entire viral sequences. A few key findings emerged from this. First, the viruses generally grouped according to geography: viruses which came from chimps geographically close together were more similar than those from chimps separated by physical distance, or barriers (such as rivers).
Second, in regard to the origin of HIV, this study also found viruses more closely related to HIV-1 than those previously identified. Indeed, SIVcpz strains from two sites–designated MB/LB in the very south eastern part of the country, and EK, in south central Cameroon–were more closely related to viruses in HIV-1 group M (the most common HIV-1 group) and N (a rare group), respectively, than they were to other isolates of SIVcpz. (See figures 3 and 4 of the paper). The group has carried out further studies in these areas with similar findings, and therefore conclude that chimps in these areas of Cameroon are the sources of these groups of HIV-1.
However, Cameroon doesn't appear to be the origin of the human pandemic. This may seem contradictory, so let me explain. Other studies (such as this Journal of Virology paper) have shown a high diversity among HIV-1 isolates in the Democratic Republic of Congo, suggesting many, many years of evolution and diversification of the virus in that area. This fits with what we know about the history of the virus as well. The first retrospectively-identified case of AIDS is from 1959 in Kinshasa, DRC. So while Cameroon is suggested as the place where the species jump occurred (and there may have been limited local transmission), the epidemic really began when it was carried to the bigger city of Kinshasa and spread there.
The research also suggests multiple transmission events of SIV into the human population. I mentioned previously how butchering or consumption of bush meat is one way animal viruses can be transferred to man. We cannot be certain this is what happened with the transmission of SIV into the human population, but it is one potential route. Indeed, as independent transmission events seem to have occurred for HIV-1 groups M, N, and O, they could each have had different transmission modes into the human population.
Additionally, this phylogenetic analysis has been used to track the origin of SIVcpz itself. It appears that this virus is a recombinant of SIVs that infected other species of monkeys in West Africa: red-capped mangabeys and Cercopithecus species. Chimps are known to be hunters and will kill and eat other monkeys, so it's possible that they, too, became infected due to their hunting and eating practices. Whether that recombination event occurred within chimps or prior to their infection with the virus isn't currently known, but it again shows just how much we can glean from analysis of the genetic sequence of these pathogens.
Finally, this research isn't the first to point to chimpanzees, and Cameroon, as the source of HIV-1. Previous studies of SIVs in captive but wild-caught chimpanzees from that country (for example, this study) showed high similarity to the human virus. Other evidence for a chimpanzee/Cameroon link is reviewed in this Science article. And transmission of SIVs (or other primate viruses) to man appears to be a regular occurrence. A study published in PNAS this time last year showed that cross-species transmission of viruses from primates to bushmeat hunters is an ongoing event. Since it appears SIV transmission into the human population has occurred on multiple occasions (leading to the M, N, and O groups of HIV), we have no reason to think it's not an ongoing process, and that nature may have something worse to offer than HIV. It also, of course, has implications for current surveillance of H5N1. No one knows how many times in history SIVs have entered the human population, only to meet a dead end in the infected human (as H5N1 generally has to date). As this study shows, it only takes one successful transmission event to lead to a pandemic.
References
Hahn et al. 2000. AIDS as a Zoonosis: Scientific and Public Health Implications. Science. 287:607-614. Link.
Keele et al. 2006. Chimpanzee Reservoirs of Pandemic and Nonpandemic HIV-1. Science. [Epub] Link.
Vidal et al. 2000. Unprecedented Degree of Human Immunodeficiency Virus Type 1 (HIV-1) Group M Genetic Diversity in the Democratic Republic of Congo Suggests that the HIV-1 Pandemic Originated in Central Africa. 74:10498-507. Link.
Wolfe et al. 2005. Emergence of unique primate T-lymphotropic viruses among central African bushmeat hunters. PNAS. 102:7994-9. Link.
Zhu et al. 1998. An African HIV-1 sequence from 1959 and implications for the origin of the epidemic. Nature. 391:594-7. Link.
Additional information: Christine Gorman at the TIME Global Health blog has a story on the paper as well, and an interview with study author Beatrice Hahn here.
Image from http://i.a.cnn.net/cnn/2006/WORLD/africa/05/25/chimps.AIDS.reut/story.CHIMPs.ap.jpg