I have an admission. I am tattooed. Twice. A small thing, but it's pretty incredible at the visceral reactions I sometime receive when people find out. (They're not in oft-seen areas under normal attire, but neither are they anywhere "naughty.") I get head shakes and tongue-clucks from many of my elders; nose crinkles from folks of my own generation who simply think tattoos are unattractive (either on anyone, or on women specifically), or compliments from people who are inked themselves. I understand the range of reactions and hey, to each their own–I'm all for diversity of opinion. But what shouldn't be compromised with the tattoo process is safety. The vast majority of tattoo studios and artists are very concerned about the safety of their clients, but there are always some bad apples to spoil the bunch. A new MMWR story shows one outcome of unsafe tattooing: serious infection.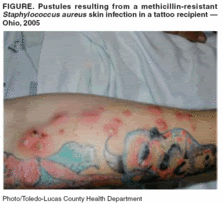 In the new report, they summarize their investigation of six clusters of infections caused by community-acquired methicillin-resistant Staphylococcus aureus (CA-MRSA). 44 individuals (34 primary cases, 10 secondary cases) were affected between June 2004 and August 2005, receiving tattoos from 13 different artists in 3 states (including my home state of Ohio).
Luckily, most of the infections weren't too serious, but 4 patients did develop bacteremia (bacteria in the bloodstream) and were hospitalized to be treated with IV antibiotics (vancomycin). When they looked at the pulsed-field gel electrophoresis (PFGE) patterns of a subset of the isolates, they were all found to be identical within each cluster, and matched a common CA-MRSA strain (USA300).
Not surprisingly, these could have been prevented; they cite "…use of nonsterile equipment and suboptimal infection-control practices…as potential causes of the infections."
Although gloves were reportedly worn by all tattooists in four of the six clusters, adherence to other infection-control measures (e.g., changing gloves between clients and performing appropriate hand hygiene, skin antisepsis, and disinfection of equipment and surfaces) was not practiced…Five patients reported seeing lesions on the hands of tattooists that were consistent in description with MRSA skin infection, and one tattooist reported a pustule on his finger; however, no specimens from tattooists were cultured. All 13 primary patients in the first of the four Ohio clusters reported receiving their tattoos in public places (e.g., parks or private residences) from tattooists who used homemade tattooing equipment consisting of guitar-string tattoo needles and computer ink-jet printer cartridges for dye. The persons with secondary cases were exposed to persons with primary cases by direct contact because they were living in the same house or had close personal contact.
Not to be Ms. Obvious here, but a public service announcement: it's not a brilliant idea to get permanent body art while sitting on a park bench, from a guy with lesions on their hands who uses a guitar string tattoo needle and takes his ink out of a printer cartridge.
Tattoos certainly aren't for everyone. Some hate 'em, some like them but the thought of a needle being repeatedly stuck in the skin isn't all that appealing. But if you're going to get one, do some research. Check out the studio. State laws vary as far as who oversees tattooing. As noted, "…under Ohio law, the operator of a tattoo establishment must ensure that tattooists follow standard infection-control procedures, are trained adequately, and have completed required first aid and bloodborne pathogen courses." In Iowa, they're under the Iowa Department of Health and must receive a permit and inspections, and are required to abide by the state's defined tattoo procedures, but as far as I'm aware, they don't have to take any kind of blood-borne pathogens training. Caveat emptor, but remember that it's your body and your life you're dealing with; not quite as easy as returning a malfunctioning TV.
Image from http://www.cdc.gov/mmwr/preview/mmwrhtml/figures/m524a3f.gif