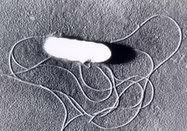 Listeria monocytogenes is a gram-positive, rod-shaped bacterium. It can be found in the environment as a soil inhabitant. However, it also can be a frequent contaminant of our food supply. As the latter, the bacterium is a significant public health concern, as it is capable of causing serious infections. Listeriosis (infection with Listeria) causes ~2500 serious illnesses and 500 deaths each year in the United States, and the hardest-hit are those with poor immune systems due to age (the very young and old), other immunocompromsing conditions (such as chemotherapy, organ transplant, or AIDS), and pregnant women. Once ingested, the bacterium is able to cross the intestine and spread throughout the body via the bloodstream, where it can attack organs and cause serious damage.
The very fact that it's typically an environmental organism (rather than a solely pathogenic agent) likely accounts for some of its virulence and transmission. It's able to survive a number of environmental stresses, including low temperature and high salt concentrations. Indeed, its ability to grow at relatively low temperatures is one way it evades our efforts to control it: it can grow in food even at refrigeration temperatures.
Listeria is particularly insidious as a cause of fetal death or other complications during pregnancy. Intrauterine infection can lead to preterm labor, spontaneous abortion, stillbirth, or serious–and potentially deadly–infection of the neonate. However, fairly little is known regarding exactly how this condition develops, or the mechanisms that lead to infection of the fetus. It has been thought that the increased susceptibility to infection with Listeria during pregnancy is largely due to a decrease in cell-mediated immunity that occurs as a result of pregnancy. This is a particularly attractive hypothesis for Listeria, which is an intracellular pathogen. A new paper in PLoS Pathogens examines this phenomenon in greater detail, using a guinea pig model of infection.

Initial studies examined the effect of pregnancy on bacterial load in different maternal organs, comparing pregnant to non-pregnant guinea pigs. They found that pregnant animals were unable to clear the bacterium from the liver and spleen, and had more sustained bacteremia (the presence of bacteria in the blood) than nonpregnant animals, and that levels of bacteria in the placenta increased substantially, and steadily, over 72 hours.
The authors state this increase could be due to 3 factors: bacterial replication, decreased clearance of bacteria by the immune system, or influx of bacteria from maternal organs to the placenta. They tested the impact of trafficking by inoculating mice with a 1:1 ratio of two different, equally virulent, isolates of L. monocytogenes, one of which was resistant, and the other susceptible, to erythromycin. After 24 hours of infection, they found that in 13/14 animals, pure cultures of one strain were collected–suggesting that cases of placental infection were clonal (that is, even a single bacterium could have been sufficient to cause placental infection). In animals harvested later in the infection (72 hours), the majority of animals were found to have mixed cultures both strains, leading the authors to conclude that the bacterium traffics from other organs to the placenta; however, by comparing the observed numbers of bacteria per organ and the changes in ratios of the strains, they estimated that fewer than 10 bacteria trafficked from the placenta to other organs between 24 and 48 hours post-infection. Therefore, they concluded that most of the bacteria in the placenta was due to growth in that organ, following initial colonization by only a few Listeria organisms. In other words, the placenta was largely protected from bacterial colonization, but when they got a foothold, they grew like crazy.
This still left the question of whether this increase in growth was due to enhanced bacterial replication or decreased clearance (for example, due to decreased cell-mediated immunity resulting from pregnancy). To examine this, they input data into a mathematical model, taking into account initial seeding of bacteria into an organ, bacterial replication within that organ, clearance of the bacteria, as well as influx and efflux of bacteria in and out of the organ. From this, they determined that it wasn't necessarily either replication nor clearance that made the biggest difference; but instead, it was the rate of bacterial clearance relative to bacterial replication in the placenta that led to an increase in growth. If you tweaked either even slightly, you could get significant bacterial growth.
Finally, using an antibiotic challenge, they determined that the bacterial burden in the placenta was significantly decreased after treatment. This may seem obvious, but with Listeria and other intracellular bacteria, administering an antibiotic doesn't necessarily cure the infection, because antibiotics are unable to penetrate the host cells–and therefore, intracellular bacteria are protected. However, bacteria associated with the placenta are extracellular (and therefore, susceptible to antibiotic treatment); therefore, the results were consistent with their hypothesis that the placenta was the nidus of infection, and that the trafficking of the bacterium from the placenta to other organs alone was sufficient to explain the difference in disease seen in pregnant versus non-pregnant animals.
This infection model, emphasizing growth in–and dissemination from–the placenta, also partially explains the pathology of listeriosis in pregnant women. Expulsion of the placenta interrupts the infection; therefore, pre-term labor or spontaneous abortion can be seen as a protective mechanism on the part of the mother. As they note, it also has implications for the control of Listeria, especially in environmental settings where the aborted placenta can act as an environmental reservoir of infection.
It should be noted that, while the results are interesting and consistent with what we see in human Listeria infections that occur during pregnancy, any animal model has its own strengths and limitations, and this is no exception. Still, it provides insight into an infection that is still largely mysterious, and that can result in not only loss of life but also severe mental anguish on the part of the family that has suffered the tragedy of a Listeria-induced stillbirth or abortion.
References
Bakardjiev et al. 2006. Listeria monocytogenes Traffics from Maternal Organs to the Placenta and Back. PLoS Pathogens. 2:623-31. Link.