I was busy over the weekend (and disgusted by the hot, nasty weather that will not die), so I don't have a lot on tap for today. Luckily, though, there's some interesting stuff elsewhere that's already written up–thoughtfully saving me some of the trouble.
I discuss the link between infectious and "chronic" disease with some regularity on this site. I think it's a fascinating area; perhaps oversold by some, perhaps over-criticized by others, but certainly a hot topic and an interesting direction for research in microbiology. This weekend's New York Times had a new story that touched on the link. (More below…)

The NY Times story can be found here; it's a nice overview of many avenues of research converging to show that our health is strongly influenced by our exposures in the first few years of life, or even in the womb. Highlighted are a few studies that have taken a historical approach, looking at morbidity and mortality among soldiers from the Civil war and generations that followed, for example, or among newborns during times of famine or pestilence (such as the 1918 influenza pandemic) and looking at how they fared as far as chronic disease development later in life. Fascinating stuff. Future Pundit has a very nice analysis of some of the high points, so I'll point you over there and won't re-invent the wheel here.
After reading the story, though, it may make you wonder–why don't we have a substantial, long-term, cross-populational study of just these effects–nutrition, environmental exposures, infectious agents, etc.–during these critical early years? Doesn't that sound like a good way to really investigate some of these links between exposure to various agents and subsequent disease development? Well, one was in the works for the better part of 6 years, but was recently axed due to Bush budget cuts.
The fate of a much-anticipated long-term study on the effect of the environment on children's health is in jeopardy, a potential victim of the tight federal budget.

The $3.2 billion National Children's Health Study, launched with much fanfare in 2000, was intended to follow 100,000 children over 20 years, and was set to begin recruiting in late 2007.

But the president's budget request for fiscal year 2007 directs the US National Institute of Child Health and Human Development (NICHD), the lead agency in the study, to shut down all operations, including a pilot study of 900 expectant mothers that is already under way.

***

The study is intended to track the effects of different environmental factors–from chemical exposures to parental nurturing styles and television viewing–from the womb through adulthood. The vast database would then help researchers fathom the causes of birth defects, autism, diabetes and a host of other childhood disorders. The data would be made freely available to researchers.

Because the study would recruit children even before their birth, the first research questions address prenatal risks, such as whether low thyroid activity in the mother leads to cognitive defects and autism in her child, and whether inflammation or infection of the uterus can lead to premature birth.

Smaller studies could address some of these questions, but "there are a large number of conditions that are so infrequent that you can't study them unless you collect a very large sample," says Scheidt. For common conditions, such as obesity or asthma, he adds, a large sample also allows researchers to examine which of the many risks contribute to the disease.

"Ending the study before it begins would be a tragedy for our children," adds Nancy Chuda, president of the Children's Health Environmental Coalition, a Los Angeles-based nonprofit advocacy group. "The only way we can prevent these illnesses is to learn what causes them."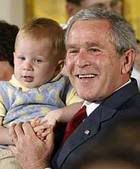 So, a study that could provide some critical insight into all kinds of diseases that have been linked to exposures during childhood isn't deemed worth funding. Leaving them behing must be OK.
Image from http://www.totalcatholic.com/universe/oneadmin/_files/Image/july_2006/Bush-and-baby.jpg