West Nile is spreading beyond birds, horses and humans. A squirrel has tested positive for the virus and hundreds more are showing the same symptoms

People are finding squirrels in their yards or parks that look like they've been injured because they aren't able to walk. In some cases they're disoriented, running around in circles or shaking. Now it's believed they're suffering from West Nile.
(More below…)

West Nile virus (WNV) is another arbovirus; that is, a virus that's transmitted by an arthropod (in this case, the mosquito). Typically, the virus cycles between birds (which are the reservoir species) and mosquitoes: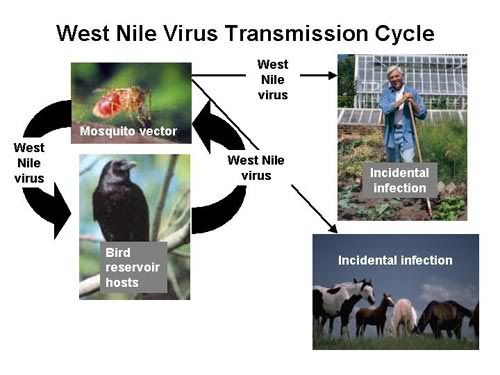 Humans and horses are species that are affected on a somewhat regular basis, but are considered "dead-end hosts;" we don't play a large role in the ecology and maintenance of the virus. Similarly, other mammals have been infected (such as raccoons, opossums, rats, and gray squirrels, as well as cats and dogs), but these infections appear to be infrequent. A large outbreak in squirrels hasn't been previously reported in the literature, though the CDC does touch on WNV infections in squirrels. In the news report, they note:
Dr. Richard Shackleford has never seen anything like this before. So after the first squirrels came in, he sent a blood sample to be tested for West Nile, and it came back positive. And he says the few hundred cases reported in the last month are only a small fraction of what's really out there.
So while it can't be confirmed that what's causing disease in all of these squirrels is actually WNV based on this report, at least one animal has tested positive for exposure to the virus, and the symptoms certainly are consistent with encephalitis caused by the virus.
The biggest public health threat, however, isn't from the squirrels themselves. When we carry out surveillance for the virus in nature, sentinel animals are used (often chickens) and tested repeatedly for the virus. Mosquito populations are also tested to see if any are carrying WNV. In this case, the squirrels can also be considered sentinel animals; the seemingly high proportion of WNV disease in that population suggests that there are a lot of infected mosquitoes in the area, putting humans at higher risk of being bitten by a mosquito carrying the virus:
"If we're seeing this many squirrels with it, that tells us a lot of mosquitos have it, and therefore the humans need to be much more aware of it and protecting themselves and their children," said Dr. Shackleford.
Image from http://www.dhpe.org/infect/Arbovirus.html