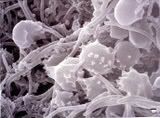 I mentioned in the Introduction to Microbiology and Infectious Disease that many people don't understand the difference between a commensal and a pathogenic organism. I also mentioned that I'd try to write something about microbial ecology. Since I just gave a lecture yesterday on normal human flora in health and disease, now seems as good a time as any to combine these two and discuss just what it means when microbiologists refer to "normal flora" or "commensal organisms," and to talk about the microbial ecology of the human body in a series of posts on this topic.
First, though, a short note on terminology, as there are a number of other terms that are, essentially, interchangable. Sometimes you'll see our normal flora referred to as "commensal" microbes, meaning that they may derive benefit from us but typically don't cause us harm. In the literature, you'll also come across the more science-y term "indigenous microbiota," or perhaps "microbiome," to refer to the same collection of organisms. I'm going to use "normal flora" throughout this series, just because it's a personal preference. And so, without further ado, Part I begins after the jump…

What are "normal flora," and what do they do?
Though microbes tend to get a bad rap as causes of disease, the vast, vast majority of them are harmless. Indeed, an enormous amount of them live amongst us: these are your "normal flora". By the numbers, our body is more bacterial than human by a factor of about ten to one. They live in every possible niche on and within our bodies: on our skin; in our mouth, nose, and throat; in our gastrointestinal tract; in our genitourinary tract; in our conjunctiva. They are with us from the moment we are born to the moment we die, typically causing us no ill effects. Indeed, they benefit us in many ways. Arguably most important, they fill niches that would otherwise be available to pathogens we may be exposed to. Due to the presence of our normal flora, invading pathogens may find it more difficult to establish colonization and begin an active infection. This can be due to a number of factors. First, these bacteria simply take up space that could otherwise be exploited by an invading pathogenic species. Second, normal flora can locally exhaust micronutrients that pathogenic (disease-causing) bacteria need for metabolism, thereby inhibiting the growth of these invaders if they do enter the body. Third, byproducts produced by these normal flora can also make the local environment inhospitable for some species of pathogenic bacteria. (These byproducts can include chemicals such as acids or hydrogen peroxide that have general antimicrobial properties, or compounds such as antibiotics that kill organisms more selectively).
These normal flora rarely cause disease in the host. However, it does happen on occasion. Particularly in women, for example, bacteria from the rectum may be inadvertently moved from the perineal area to the urethra, with the result potentially being a urinary tract infection. Additionally, the presence of skin abrasions and cuts that allow normal flora to cross the epithelial cell barrier, or a condition which causes the host to be immunocompromised , can result in disease caused by the normal flora. However, these are relatively rare events, and typically our normal flora do much more good than harm to our bodies.
Normal flora versus "pathogenic" bacteria–how do we distinguish between them?
A problem arises, though, when what may be "normal flora" to one individual is a cause of severe disease in others. Many of us are colonized with organisms that would more typically be classified as "pathogens"–in other words, species which are generally associated with disease. These can include various disease-causing strains of E. coli in the intestinal microflora, or Streptococcus pyogenes in the throat, or Staphylococcus aureus in the nasal cavity. Though these may not cause any symptoms of disease in the host (therefore, they are part of their "normal flora"), they can still be transmitted to others and make them ill. Therefore, for species such as these, the line between "commensal" organism and "pathogen" is not clear-cut. (I'll discuss this further in a later post on different "strains" of microbes; stay tuned).
Difficulties of studying "normal flora"
As I mentioned, species which commonly are pathogenic represent only a very tiny fraction of all bacteria. However, what we know about these relatively few species represents the bulk of all scientific knowledge about bacteria. Therefore, we know little to nothing about the vast majority of bacteria which make up our normal flora–and when I say "vast majority," I'm not referring to a trivial number here. For example, it's estimated that there are approximately 400 different species of bacteria in the human oral cavity, and only ~150 of those have been cultured. We see a similar ratio when we examine normal flora in other areas of our body as well–there's just a lot of collective ignorance about so many of the species that inhabit us, for a variety of reasons.
A main reason for this ignorance is the fact that many of the species that make up our commensal organisms have never been cultured in a lab. This is typically our first step toward understanding an organism: isolate it from a complex mixture, grow it on a nutrient media in a "pure culture" (that is, separate from the other organisms that reside in said complex mixture), and do experiments on it–for example, to learn about its metabolism, or antibiotic resistance, or evolutionary history, etc. We have none of this information for most of the species that we're in contact with every day, not only in and on our own bodies, but in the larger environment as well. In the next post, I'll discuss other ways that we can study these microbes, independent of culture.
Image from http://www.bact.wisc.edu/themicrobialworld/dental_plaque.jpg