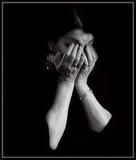 Over at Am I a woman scientist? I ran across this post discussing crying in the workplace. I'd never given much consideration to the issue previously, but there are several thought-provoking posts and articles on the topic.
First, let me take a step back to a post Am I a woman scientist? linked to, here at A Natural Scientist musing about crying as a sign of weakness in women. From there, a link goes back to this Chronicle story describing the aftermath of a miscarriage, and the author's inability to discuss it with anyone at work for fear of breaking down and crying.
Some interesting themes emerged from these posts. First, and probably fairly obvious, is the fear of crying in front of colleagues (and particularly male colleagues), for fear of being perceived as weak or unprofessional:

Consultations with close friends assured me that the chairwoman of my review committee would understand the circumstances. Nonetheless, I wimped out. I told her that I needed another week because of "some family problems."

I just could not face having to tell her about the miscarriage — a conversation that I knew I could not have without crying — in the midst of working so hard to present myself as a confident teacher and developing scholar. It was just too much to balance.

In the end, that was the simplest reason that I did not say anything about my miscarriage: I could not talk about the loss without crying. And justified or not, I could not get past the thought that women who cry at work cannot easily, in the next breath (or on the next page), describe themselves as competent professionals.
This is echoed at "A Natural Scientist," who broke down crying in front of her mentor:
So we were talking about the need to be tough and on guard all the time, and I said, 'It's just been really hard…' and burst dramatically into tears.

Of course she was wonderful about it.

But here's the thing: I could not under any circumstances cry in front of my advisor, or any of the male professors; they would never take me seriously again. This is true of some of the female professors, but on the whole, I would expect it to be less career-destroying.
There have been 3 times when I had to break some important, but potentially career-damaging, news to an advisor, and (barely) managed to get through all them without crying. Twice was with my advisor in graduate school–letting him know (both times) when I was pregnant. You might think the second time would have been easier, but that one was actually more difficult because he'd been very good with the first pregnancy and I felt, by having another child, I might be pushing the limits of his patience a bit. But he was still very good about it, causing me to cry with some relief after I was alone.
The other time was more recently, telling my mentor and my chairman about my impending divorce (which, although I've not discussed here, may be the subject of a future post). Again, both were very supportive, but it was just a very stressful and emotional thing to discuss, and it took a *lot* of effort to keep the tears from coming–not necessarily because I was sad, as I'd already been separated for many months and much of the hard stuff was already over, but just because there was so much stress and worry involved with discussing it with anyone, no matter how superficial.
This brings me to the second theme running through these articles, which are the reasons *why* women cry. Am I a woman scientist? discusses this in her post:
Not being a man, I actually don't know what their general assumption is on the reason for crying, but in my experience, women crying in front of men in the workplace is less likely to be due to "weakness" or sadness and more likely due to anger or frustration.

I have cried once in a professional setting, and come close to crying twice. All three times, it was a stress release, because I was quite close to punching someone in the mouth.
This theme is echoed in the comments to both her post and on Jenny Scientist's post at "A Natural Scientist:" crying as a response to anger, stress, and frustration:
… I was angry, frustrated, completely stressed…

…I completely lost it, I was so frustrated…

…the one time I *almost* cried in front of my advisor, it was because I was mad enough to spit nails, worried about my project, and at the end of my rope!…

…I have cried twice at work, and both times were out of frustration. And like you, it was because I couldn't take it anymore—I just felt like "these people are really NOT LISTENING to me and nothing I am doing is changing that"…

… I am also an academic and have cried at work once (in front of my chair) and that was in complete fury…
Several of the commenters also mentioned that the thought of crying in front of a man is generally much worse than in front of a woman:
I think one problem is that many men don't know how to interpret tears – they think it's something about sadness, grief, hormones, or general un-hingedness, and not ANGER or FRUSTRATION. If only I knew how to stopper up the tears and start yelling instead…
This may be partly because of what one commenter mentioned: the stereotype of the weepy, manipulative woman who turns on the waterworks to get her way, especially with men. Perhaps tears are less likely to work with another woman, and so we feel more comfortable crying in front of them and fear less that they'll think we are trying to manipulate them.
Additionally, as Jenny points out, the structure of the workplace also goes against these types of expression of emotion:
The problem is, this is a structure which fundamentally discriminates against women. First we're socialized to believe crying is okay, and then we're penalized for it. Even if it's women who are applying this paradigm, they are still guided by a norm which was not established by women.
I don't have any answers here, alas. I do think it's a problem that these displays of emotion are looked upon so poorly and feared by so many, especially with stories like Eleanor's, where she was too afraid to even mention her miscarriage because she thought she'd break down and cry when discussing it. Academia (and other high-pressure, high-stress jobs) is enough of a pressure cooker as it is; punishment shouldn't be feared when we release some of that steam in a healthy way.
Image from http://thumbs.photo.net/photo/3238589-sm.jpg