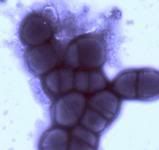 A few weeks back during the whole Egnor kerfuffle, I mentioned how important an understanding of evolutionary biology was to many areas of epidemiology, and specifically, for vaccine development and implementation. As one example, I brought up the phenomenon of serotype replacement, which can occur due to the use of what are called "multi-valent vaccines." Essentially, these vaccines include strains of pathogens which are either the most common, or the most likely to cause disease–thereby protecting individuals from infection with these specific serotypes, but not making the recipient immune to infection with other strains that aren't included in the vaccine formulation. The concern is, then, that once those types are reduced in the population via vaccination, other serotypes can come along and fill the niche that they've vacated. A recent story by Helen Branswell notes that this is exactly what's happening with pneumococci:

Two new studies from Alaska and from Spain suggest that serotypes or strains of pneumococcal bacteria not covered in the vaccine — sold as Prevnar — are stepping into the void left by those the vaccine protects against.

"I think we knew there was that potential for that to occur, but there was no way to predict if it would occur or to what extent," Dr. Rosalyn Singleton, lead author of the first study, said from Anchorage.
As Singleton notes, it's difficult to predict exactly what will happen when such a niche suddenly is available. Because strains that cause disease tend to get the bulk of attention (and research dollars), typically less is known about the rarer serotypes of pathogens. Are they rare because they've simply been out-competed for some reason by the more common strains? Are they inherently less virulent, and therefore unable to cause as much disease in humans? It would appear that the latter is not the case, at least for the pneumococcus (Streptococcus pneumoniae):
In Alaska, rates of invasive or serious pneumococcal disease among native children went from 403 per 100,000 children a year before the vaccine to 134 per 100,000 after the vaccine was introduced in 2001.

But that figure rose again to 245 per 100,000 by 2004-2006, with the bulk of cases — 229 per 100,000 — due to pneumococcal strains not included in the vaccine, the Singleton article reports.

The Spanish study, by researchers at the University of Navarra, also showed an upswing of cases caused by non-vaccine strains after immunization with Prevnar began.
Note that this doesn't mean the vaccine isn't successful. Rates of invasive disease even in the recent years are still about half of what they were before widespread use of the vaccine, so that's still a lot of morbidity and mortality avoided. And Wyeth, maker of Prevnar, is already working on updating that vaccine as the epidemiology of the strains circulating in the population changes (which is what we already do, in essence, yearly with the influenza vaccine). However, careful surveillance and a good understanding of the ecology and evolution of the bacterial species (as well as its interaction with other species who could potentially fill the same niche) will be critical to maintaining a level of success in these fast-moving pathogen populations.
Image from http://www.hpa.org.uk/infections/topics_az/pneumococcal/images/blue2.JPG