So, Dave over at The World's Fair has started a coffee mug meme, suggesting that "…it's almost like it s an emblem of your character. As if the type of cup you use can offer insight into the sort of personality you are.
Or maybe not…"
He asks then:
1. Can you show us your coffee mug?
2. Can you comment on it? Do you think it reflects on your personality?
3. Do you have any interesting anecdotes resulting from coffee cup commentary?
3. Can you try to get others to comment on it?
1). I'd love to, but the problem is…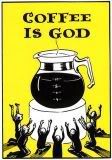 …I don't have one. I don't drink coffee, and anything I drink during the day I'm likely to bring to work in a bottle of some form (either pre-packaged or a plain washable tupperware-type liquid container). So, 2) therefore, in a blinding jump of logic, it must follow that I lack personality!
According to stats cited in this article on coffee drinking, more than half of Americans drink coffee everyday, and another 30% do so occasionally. Therefore, it's weird being a non-coffee-drinker, non-beer-drinker in our society. Especially in science (though certainly not limited to it!), it seems to be the norm to have a coffee mug glued to your hand during the day (or at least, during the morning), and to need to order a beer anytime one goes out to socialize. Sometimes I think it would be more socially acceptable to tell a person I have 7 toes on my right foot* than to tell them I don't drink coffee; I get many blank "does not compute" stares back to that comment.
The thing is, I just don't like the taste of coffee. I really tried to get used to it in college (along with the beer thing–it was a shame to turn down so much free alcohol sometimes), but I could never get a taste for either. I suppose it's just as well. I've never noticed any perceptible reaction to caffeine. I can drink a glass of soda or iced tea late at night and have no issues sleeping whatsoever, so caffeinated beverages have never really helped as a stimulant–quite unfortunate for an undergraduate who needed to stay up and work, alas, but good in the long run, as it's kept me free of the "NEED COFFEE" morning affliction that many of my friends and colleagues suffer from. At the very least, it's kept me away from worshiping the coffee pot, and a $5/day Starbucks habit.
(*I don't! Just an illustration)
Image from http://www.mulliner.org/images/coffee_is_god.jpg