I had a strange worry as a kid. I was very scared of getting bit by a tick and developing Rocky Mountain Spotted Fever (RMSF). I know, weird–even for nerdy kids like me, who knows about Rocky Mountain Spotted Fever? How many readers are even familiar with it?
For those who aren't, RMSF is a zoonotic rickettsial disease transmitted by several species of ticks. Though the disease is named after the geographical region where it was first described back in the late 1800s, the bacterium that causes it, Rickettsia rickettsii (an obligate intracellular pathogen), has been found in almost all US states and south to Mexico. The bacterium itself is related to Rickettsia prowazekii, the causative agent of louse-borne typhus, and RMSF is the most common rickettsial disease in the United States. Symptoms are non-specific initially (fever, muscle aches, nausea, vomiting, headache), making it difficult to diagnose. A rash starts to develop in most patients around 2-5 days after the fever presents, starting out faint and pinkish and typically getting redder and more "spotted" (hence the name) over time. More insidious, perhaps, are the cases where a rash doesn't develop ("spotless fever," ~10% of patients). Here, the physician may not have a reason to suspect RMSF, and therefore may not treat correctly.
Especially when untreated or treated late, infection can be severe, affecting the respiratory, central nervous, gastrointestinal, or renal systems. Those who have the worse infections also are more likely to suffer long-term damage, including hearing loss, loss of or reduction in bowel control, and paralysis, among others.
So how does a kid even learn about RMSF, a relatively rare disease (250-1200 cases reported annually according to the CDC), and why am I discussing it today? More below…

I've mentioned before, I think, that I have a giant family. My dad was the youngest of 13, and many of his siblings also had large families, so I have something in the neighborhood of 80 first cousins. Most live in Ohio, but others have scattered, including 2 of my uncles that live in North Carolina–which just happens to be among the states with the highest incidence of RMSF: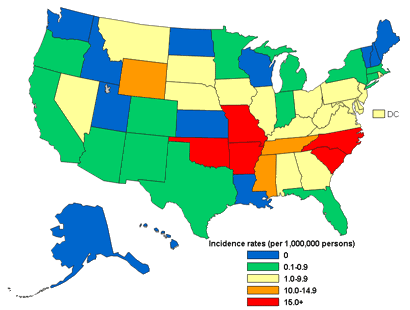 When I was just a kid (maybe first grade or so), one of my cousins living in North Carolina contracted RMSF. (This was during the time period of high incidence shown in this figure below:)
Obviously living so far away and being so young, I wasn't kept closely updated on his condition and am not 100% sure of all the details, but I know he was hospitalized for a lengthy amount of time, and had trouble walking when he recovered. (I seem to recall he lost all his hair too, but I could be mis-remembering that). Either way, it certainly made me very wary of ticks when I was a kid, especially when we played in the woods near my house.
Why I bring this up today is because there recently have been several cases of the disease reported in Wyoming:
The Wyoming Department of Health reports four recent cases of Rocky Mountain spotted fever in northeastern Wyoming.

"What's interesting about those cases is three of them, at least, were from the Campbell-Converse County areas," said Dr. Tracy Murphy, state epidemiologist.

Dr. Dan O'Leary, acting state public health veterinarian, recommended that people check for ticks after they've been outside, checking places such as the back of the neck and the backs of legs.

O'Leary encouraged people to use insect repellant containing DEET or picaradin when traveling in tick country.
RMSF is an interesting zoonosis. In contrast to every other zoonotic disease I've written about here, there really isn't a specific vertebrate reservoir of the causative organism. Infected ticks can transmit the bacterium trans-ovarially: that is, from mother tick to offspring via the egg. Therefore, the tick doesn't need to take a blood meal in order to become infected; they're infected from the beginning. Some animals, however, can aid in the maintenance of the organism in nature. Some species of small rodents can become infected and the pathogen will replicate to high enough levels so that uninfected ticks can acquire the pathogen, thereby increasing the pool of infected ticks.
Most notably, RMSF can be spread by dog ticks. These ticks have been largely left off the hook when it comes to tick-borne diseases in the United States because they don't spread the most common tick-borne disease here: Lyme disease. However, we should recall that there's more out there than just Lyme, and other tick-borne diseases can also be a nasty sequelae of a tick bite (for you *and* your dog!)
I also bring this up because of an incident I had the other morning. We've moved fairly recently, and my kids are still adapting to the new location. My 5-year-old son woke up in the middle of the night after a bad dream, and came down to my bedroom. When I pulled back my sheet, he told me, "mom, there's a spider crawling in your bed." I turned on the light to get a closer look, and (as you've probably guessed), it wasn't a spider at all, but a tick. My dog often sleeps at the foot of the bed, so it had probably been brought in on her. It wasn't engorged, and my dog had been treated with Frontline (which, apparently, kills ticks if they bite, but must not repel them?). Anyway, being me, I caught the tick (it was indeed a dog tick), and my kids took it in a container for show 'n' tell at their school. It just goes to show you that you don't have to live in the middle of a woods to encounter ticks (and the diseases they may carry), so be sure to take a few minutes, protect your animals, and do a quick check on yourself whenever walking through an area that may harbor the little buggers.
Images from http://tinyurl.com/3asrs2,
http://www.cdc.gov/ncidod/dvrd/rmsf/images/RMSFMAP.gif, and
http://www.cdc.gov/ncidod/dvrd/rmsf/IMAGES/Epidem1.gif