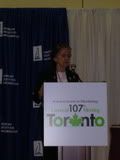 Everyone knows about the "butterfly effect": the idea that a butterfly flapping its wings in Brazil could eventually result in the formation of a tornado in Texas by virtue of very small alterations in the initial conditions of a system. Though this description of it is often decried by people who study chaos theory as an inaccurate oversimplification, it's a useful illustration of the tiny perturbations that can have vast effects on a downstream chain of reactions.
When it comes to infectious diseases, climate change may be the beginning, but environmental effects extend much farther than just the weather. And while they may not be affected by the movement of a butterfly, even small environmental changes can mean large effects when it comes to microbiology. At a session Tuesday on Environmental Change and Disease, virologist Stephen Morse noted that "…environmental changes have always been associated with the appearance of new diseases, or the arrival of old diseases in new places. With more changes, we can expect more surprises." I've mentioned this previously here, describing reasons why diseases "emerge"; the session today went much further, discussing infectious disease in terms of ecology, and how environmental changes have the capacity to alter much more than just our landscapes. More after the jump.

Like climate change itself, what will happen with infectious diseases in the context of an altered climate is very difficult to predict. For instance, increased rainfall may bring malaria to one place, creating small pools of water in which the mosquito vector can breed. In another area that already receives a lot of rainfall, additional precipitation could have the opposite effect, washing away larvae and decreasing malarial vectors in the region. And though this may not seem like it has relevance to the United States, recall that malaria used to be endemic here as well, and potentially could be again.
Additionally, many endemic diseases are susceptible to environmental change. West Nile, for instance, has quickly spread across the United States, while remaining more of a focused and local problem in areas of Europe. A reason is that the U.S. has many more species of mosquitoes which are able to act as vectors–species which are susceptible to changes in climate. The U.S. also currently enjoys a short influenza season in relation to tropical countries; could warmer temperatures cause influenza to be endemic year-round?
Terry Yates of the University of New Mexico highlighted another native example: hantavirus. The 1993 hantavirus outbreak occurred in part because of the El Nino events in the prior years. These created a bumper crop of pinyon nuts and other fruits and seeds, which in turn led to an increase in the rodent population. More rodents led to increased rodent population density, from less than one to 20-30 mice per hectare. This in turn put more humans in contact with hantavirus-contaminated rodent feces and urine, which led to an increase in hantavirus pulmonary syndrome. Researching the relationship between climate and hantavirus infections have even allowed Dr. Yates to create a sort of early warning system, noting conditions which are favorable for hantavirus infections.
Additionally, representatives from the World Health Organization have recently noted that changing climate could also have other health effects, including the spread of disease-carrying ticks into new areas and a longer pollen season.
Environmental change isn't limited only to climate, either. Joan Rose of Michigan State University discussed environmental change that resulted from recent natural disasters: the 2004 Indonesia tsunami, and hurricanes Katrina and Rita in 2005. Both resulted in an increase in diarrheal diseases in the affected populations, including an outbreak of norovirus in New Orleans that sickened at least 1000. Rose notes, "Hurricanes, typhoons, and tornadoes have exacerbated an aging drinking and wastewater infrastructure, enhancing the mixing of untreated sewage and water supplies, re-suspended pathogens from sediments and displaced large populations to temporary shelters."
While these are more direct effects of environmental change, Morse cautioned that indirect effects will be felt as well. This potentially includes an effect of global climate change on agriculture, which could in turn lead to changes in disease transmission and distribution. "If agriculture in a particular area begins to fail due to drought, more people will move into cities." This could increase population densities and result in increased disease transmission, while potential food shortages due to drought could leave many in the population malnourished and immunocompromised.
Of course, this is a bleak scenario, but the speakers expressed optimism as well. Rita Colwell emphasized that this research into environmental effects on infectious disease "…represents shift from intense reductionism… to a holistic approach of infectious disease. Previously, we focused on the components of an organism that caused disease, and are shifting to understanding that environment plays a major role in epidemics."
Colwell suggested that this shift provided us for the first time with a good ability to really predict, and hence prevent, infectious disease outbreaks; to carry out what she dubbed "pre-emptive medicine." In contrast to the current approach where many researchers look for a "silver bullet" to fight a single disease (such as a drug or a vaccine), pre-emptive medicine would rely on predicting conditions conducive to massive epidemics, and determine when, where, and how intense they may be. "Then we could provide in a focused way the panoply of safe drinking water coupled with vaccine and medication, and target it effectively, rather than simply having shotgun approach. It provides us with a mechanism for addressing epidemics in strategic way, where we understand the complexity of the disease."