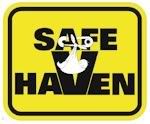 My office in the epidemiology department is located within the hospital. Therefore, every day when I walk into work, I pass by a sign like the one on the left. Like most states, Iowa has a safe haven law–a law that allows parents to leave a newborn infant at a designated site, no questions asked, without any threat of prosecution. These sorts of laws were developed in response to cases where babies had been left on doorsteps, or thrown in trash dumpsters, etc. Safe Haven laws, in theory, should prevent those kinds of abuses–the parents abdicate responsibility for the infant, who can then be adopted by a caring family. In theory, everyone should win.
In practice, however, it's sometimes a different story. Some argue that these laws haven't helped to reduce the number of babies that are "dumpstered," and that babies in some states (depending on the particular laws) are simply placed in limbo, unadoptable because of lack of information on both birth parents. In other cases, the very people who may be most at risk are the ones unaware of such laws. For example, at the Iowa site I linked above, they have information for hospitals, parents, etc., but tragically, under "Community Education Information," it says, "materials are still being developed." A recent story notes that in Iowa, there's just no money to publicize these safe havens, and that since 2001, 8 babies have been dropped off, while 4 have died after being abandoned unsafely. Earlier this week, this hit me where I live, as a teenager from my little Iowa town is accused of hiding her pregnancy and killing her newborn infant while on vacation in Florida. More below…

Truitt told police she hid her pregnancy from her parents and boyfriend. They were all staying at the Wyndham Resort on Saturday when authorities found a bloody knife in the hallway and the newborn's body in a trash bin, sheriff's officials said.

Truitt said she gave birth in the bathroom, using a kitchen knife to cut the umbilical cord. She then put the baby in a plastic bag with some bath towels and threw it down the trash chute, authorities said.

An autopsy performed Sunday found the newborn died from blunt trauma to the head, likely from being dropped in the trash chute.
Since this is a small town, there's been a lot of hand-wringing about what went wrong. Sex education has been an obvious topic. Though Iowa itself went "red" in the last election (barely), we have a Democratic governor, and our little swath of eastern Iowa between Iowa City and Cedar Rapids is fairly progressive (as college towns are wont to be). The school system here also is excellent–and a main reason for my choice to live in this town. Some comments on these stories (mostly from people outside of Iowa) have assumed we're all backward hicks, and that the girl probably received no sex education. My kids are ages 7 and 5, obviously a bit too young for any kind of comprehensive sex ed, but even then they've already discussed a bit of "hot button" topics such as evolution, and the health curriculum shows that discussions of "human sexuality" begin in fifth grade (if not earlier).
One site calls the entire community "negligent" "in creating a healthy community of openness, trust and confidence". Others point to Ashley's online pages, where she talks about sneaking out and going to parties and raves, and asking where the parents are.
The Christian Science Monitor has an article on safe haven laws, and why they're not always effective. They note that little is known about mothers who might be at risk of killing their babies, rather than dropping them off–and therefore, it's not certain who to target for education, or how:
New York State Sen. Nancy Larraine Hoffman, who sponsored her state's "Abandoned Infant Protection Act," says that, because of the elusiveness of these mothers, her law and comparable ones in other states are based on the assumption that mothers who abandon their babies in public – and thus might be persuaded to leave them in safer places – fit a similar profile to those who commit neonaticide.

More is known about these mothers – at least those who get caught. They tend to be girls of about 17, living with their parents, says neonaticide expert Michelle Oberman, professor of law at DePaul University and coauthor of the book "Mothers Who Kill Their Children." In deep denial about their pregnancies, and often concealing them, they frequently do not seek prenatal care and tend to deliver their babies alone – often at home.
From what I've read, the girl here didn't seem to be in denial about her pregnancy–a friend saw her looking at baby clothes one day, for example. But other than that, her situation seems rather typical. One mother who abandoned her baby (only to get it back later) gave her story:
"I gave birth to my daughter in my campus dorm room all alone," Ms. Davis, one of the few young mothers who's spoken to the press about abandoning her baby, told National Public Radio last week. Panicking, the straight-A student put her daughter in a dumpster next to her dorm, then called campus security to report a noise outside her window, hoping they would find the baby. They did, and Davis eventually got custody of her daughter. "[But] when I was pregnant and when I gave birth, I wasn't really thinking rationally enough to say, 'OK, well, after I give birth I'm going to take my daughter to a hospital, or I'm going to take her to a fire station," she told NPR.
The article also notes that, after being "paralyzed" for 9 months over the pregnancy, it's rather inconceivable to believe that the mother is just going to pull herself together post-partum and take the baby to a hospital or fire station. However, one can also find it equally difficult to believe that, over 9 months of pregnancy, it never occurs to the mother what they're going to do once the baby actually is born, or that their denial can be that strong that they really believe they're not pregnant.
I don't know what the answers are here. I think this is tragic all around, for the girl, for her family, and of course for the baby, whom authorities confirmed was born at or near full term. I just don't know where the weakest link was; if the family should have known (the parents admitted they suspected pregnancy), if someone reached out to the girl and was turned down, if someone could have done more, approached her about adoption, or safe haven laws, helped her in some way, whatever. I just know there's a dead infant that many people in Iowa would have been ecstatic to have in their family, and an 18-year-old who just threw away her future.