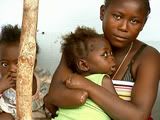 I previously mentioned Sierra Leone when discussing the effect of warfare on the emergence of disease. Sierra Leone has long been a country divided, and suffered through more than a decade of civil war (1991-2002) and decades of instability prior to that. Since the end of the war, changes have happened, but slowly. Most recently, the good news is that their Parliament voted to increase the age of marriage from 11 to 18 as part of a new childs' rights bill. However, they stopped short from taking action on another controversial area: female genital mutilation (FGM), otherwise known as "female circumcision." More after the jump.

Though dubbed "female circumcision," the procedure is much more extreme than that experienced by male counterparts. Though exactly how it's done varies in practice, in the vast majority of cases are made up of what the WHO describes as Type II FGM: "excision of the clitoris and labia minora." The second most common type is even worse: "excision of part or all of the external genitalia and stitching/narrowing of the vaginal opening." Together, these two forms account for about 95% of FGM, and the consequences can be deadly.
All too frequently, these procedures are done under non-sterile conditions, with the girl being held down against her will (sometimes by female relatives). They can result in extreme blood loss, infection, problems with urination (sometimes leading to permanent urinary incontinence). The procedure can also make sexual activity and childbirth difficult later in life, and, as one may imagine, also carries severe mental scars.
So why didn't the government ban it? About 9 out of 10 women there have suffered through FGM in Sierra Leone, and there is still a lot of support for the procedure in the county–indeed, so much so that the debate over the issue was held behind closed doors:
Senior MP Alassan Fofana told the BBC that there was a general consensus in parliament not to outlaw FGM.

He said that measures had been introduced to control it and pointed out that this was more than previous parliaments had done.

"They were afraid to be tagged as calling for a ban on FGM. For a lot of people, this would have cost their political career," he said.
Sadly, while FGM remains untouched by law, one girl noted that just the marriage provision will still make a difference in her life:
"I'm more privileged than my mum – she was forced into marriage at an early age. At least I can decide for myself how to live my life without my parents interfering," she said.
Well, how to live one part of your life, anyway…
Image from http://www.cinemalibrestudio.com/EmpireInAfrica/images/images/3_girls.jpg