I mentioned I was back in Ohio last week. The occasion was the celebration of my grandparents' 60th wedding anniversary, but while I was in the area, a number of us from Panda's Thumb also met up south of Cincinnati to take our own tour of Answers in Genesis' Creation Museum. (Wesley has a picture of the group here; I'll also try to scan in another "official" picture tomorrow).
My brain still hurts. My thoughts on everything below (with photos, of course):

This trip has been planned for awhile, and I've purposely tried to avoid most of the blog posts on the museum. I've checked out the pictures and skimmed a few articles, but I wanted to go into it without having read about every inch of the place. It didn't fail to disappoint. We started off viewing a film called "Men in White."
We were told by the employees that it was a satirical look at evolution. All I have to say is, if they think that was satire, they really need to read some Twain or Swift. The premise was that the angels Michael and Gabriel were talking to a lost and wandering camper–a frustrated soul who was looking for meaning in the world, but didn't want people to "think she's stupid" by believing that science was wrong about evolution. The whole movie, while slick, was like an extended Chick tract (Big Daddy comes to mind, as part of it consisted of "Mike" and "Gabe" harassing a science teacher…."duuuuude, like, evolution is sooooo bogus"). And special effects were out in full force. The chairs vibrated with thunder, or when the angels "whooshed" away, and the chair backs squirted water during the rainstorm. (This was SUPREMELY annoying). My brother noted that these distractions occurred frequently when they made a really astounding claim that might make a person think–"let's distract them by spraying water in their face!" An interesting theory…
Anyway, the movie served to introduce the overarching theme of the museum: the world is bad, Christianity is good, it makes people feel better and science can't provide you with that comfort.
This theme presented itself throughout the museum. I guess my one main surprise was that despite hailing themselves as an alternative science museum, there really was fairly little science there. Sure, there were videos to watch and many of the exhibits had narration, but just based on the displays, they really half-assed (hell, more like quarter-assed) the "scientific objections to an old universe and evolution" part of the "museum." Instead, the focus was more typically on "why Christianity is good for you" and "why human reason is wrong".
Just past the paleontology dig came another room discussing the reason vs. Biblical authority dichotomy they'd set up, continuing on from the theme of the film:
They ask if different starting points (God/ The Bible versus "Science") matter in one's life. The people in the poster appear to be in anguish, asking, "Why am I here? Am I alone? Why do I suffer? Is here any hope? Why do we have to die?"
They argue, of course, that these different starting points make all the difference–and that only their version of Christianity offers hope to the human race: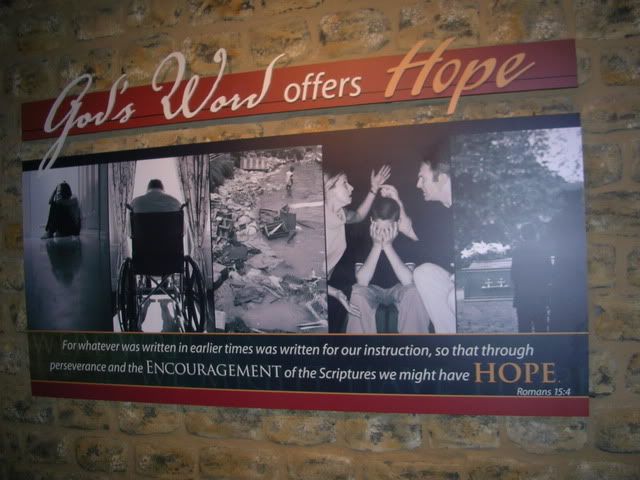 The real enemy isn't only evolution, or only "millions of years;" it's the idea that human reason trumps God's word: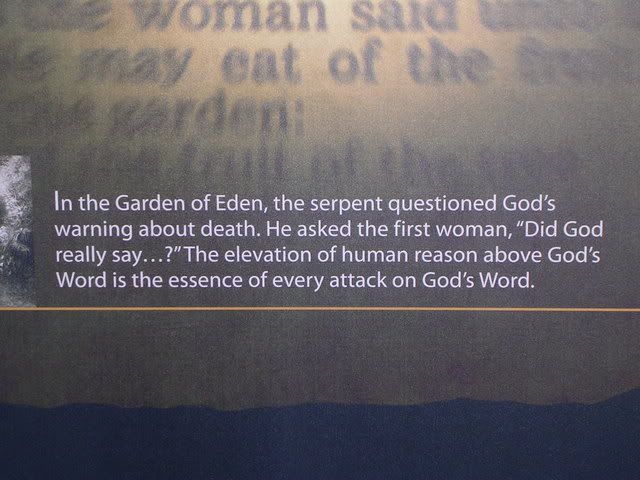 By way of the Enlightenment, then, this elevation of Reason above God may be the death knell of the church. This is the hall you may have seen pictures of in other blog entries (for lots more pictures, you can check out this post), where they have newspaper headlines about abortion and school shootings (all attributable to acceptance of evolutionary theory, of course). I ran into an old friend, Professor Steve Steve, there–poor guy looked like he'd seen better days: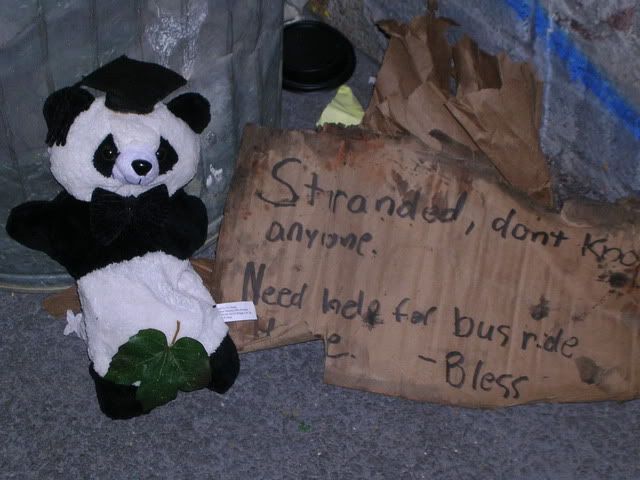 Leaving the hall, we see two main reasons for the acceptance of evolution and the decline of "Christian" teachings: thinkers of the Enlightenment and the Victorian era, and the courts, which "kicked God out of school." AiG intends this to scare their target audience, noting how many young adults fall away from the faith while in college. The message is that, ultimately, the rejection of literal scripture leads to moral relativism, atheism, and as they depict, the death of God and Truth: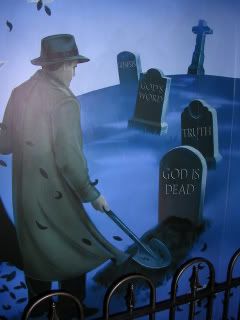 With this warning in place, you then watch a film on the days of creation, enter the Garden of Eden, see the Fall, the Flood, the division of the races at the Tower of Babel, etc.–"Sunday school from Hell," as one colleague put it. (And the workers on the ark sound like they just left a production of Fiddler on the Roof). This eventually leads to yet another short film to cap off the evangelism: "The Last Adam," detailing the history of sacrifice in Christianity from the beginning up to Jesus. (It included a strange interview with a rather bitter Mary about God using her son as a sacrificial lamb. Weird).
Of course, following the end of this movie, there were plenty of workers milling around and asking museum goers what they thought of the museum. We had one chat with us, asking us our opinion, if the museum had changed our outlook, etc. I didn't feel like being rude and didn't want to get into a discussion (and only had a few minutes to get to our show at the planetarium), so I told him the place was pretty much what I'd expected and left it at that. This was the truth, but I was a bit surprised that they really didn't even try with the science. Sure, they threw in a few scientific-looking displays and videos, and dressed up their employees to look like paleontologists in the field, but overall, the place was just a Christian camp without the pretense of scientific evidence. After all, if we can't trust human reason, why bother with the scientific method anyway?
I knew I'd be depressed leaving there, but I really made things worse by stopping at the gift shop. I'm all too familiar with the creationist books for adults, but I'd not seen the ones aimed at kids previously–and even worse, ones aimed at toddlers. One was a board book called "It's designed to do what it does do", featuring a cute frog on the cover with googly eyes, and targeted roughly at the 2-5 year old set. The book goes through animals and how they're so cleverly designed "to do what it does do," and how God created them that way.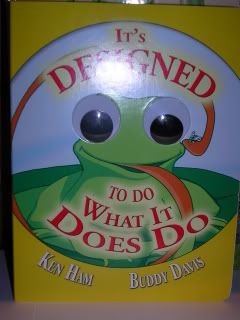 …including animals such as the Behemoth, which apparently was a very cute sauropod: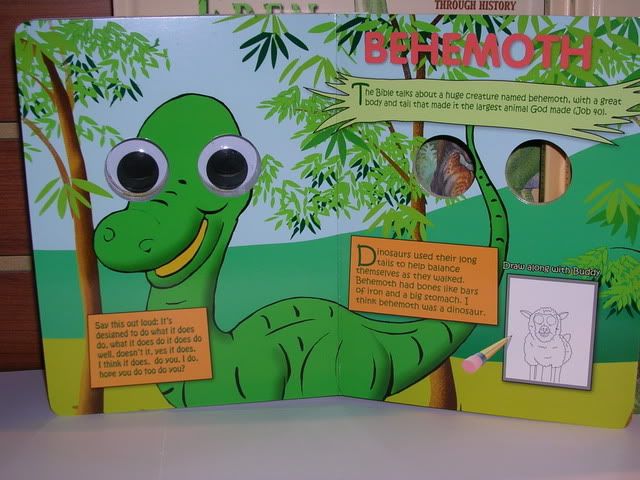 Sigh. Damaging young minds, one googly eye at a time.
I was disappointed also because I hadn't realized that one of the displays I wanted to see–the dinosaur room–isn't opening until July. There were a few dinosaurs here and there (including one in the Garden of Eden using its sharp teeth to dig into a pineapple, if I recall correctly), but i was looking forward to hearing much more about how they were vegetarians before the fall, how Noah fit them all on the ark, how the presence of soft tissue in fossils proves a young earth, etc. etc. Of course, going by the rest of the museum, they wouldn't have even mentioned that–it's probably just the dinosaurs and the verses mentioning the Behemoth and Leviathan.
Obviously, the good thing about the museum is that it will only be convincing to the already convinced. For those who aren't about to accept a literal Genesis, there's nothing in the museum to make them change their mind. However, it does have enough here and there to sow confusion in the minds of those who already have some anti-science leanings.
I suppose it's all too fitting that we capped off our drive back north on I-75 by passing by this icon at the Solid Rock Church in Monroe:
$250,000 spent on a 60-foot tall Jesus statue. $27 million spent on a Creation "museum," not to mention all the hours of donated labor. Meanwhile, our kids are failing to learn even basic science knowledge in school. Disheartening to a scientist, to say the least.
Final image from http://www.churchmarketingsucks.com/graphics/2005_01_13giantjesus.jpg