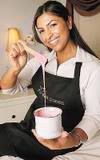 Women do some rather insane things to achieve modern standards of beauty. We wear shoes that do terrible things to our feet. We don bras that dig into our chest and push our breasts into strange conformations. We slide on pantyhose to firm our stomachs, makeup to hide our imperfections, and hair dye to diminish our grays. And we have this strange habit* of yanking other body hair out from the root, be it our eyebrows, underarms, legs, or pubic hair.
Yes, I do have a point here (besides making men squirm). The August issue of Clinical Infectious Diseases has a forthcoming article that details (very carefully details, so squeamish, beware) what can happen with a bikini wax gone bad–and it's every bit as bad as you think. More after the jump.

The article is a case report of a 20-year-old Australian woman who reported to the emergency department with fever and swelling of the genitalia. She noted that she'd received a Brazilian wax two weeks prior. For those unfamiliar with the procedure, a Brazilian is about as severe as bikini waxes get. You cover the hair on almost the entire region–"pubis, vulva, and anus" as they note–with hot wax, and then rip the wax off, pulling the hair follicles along with it. One description of the procedure:
After underwear is removed a beautician asks the client to lie down and raise the legs. Talc may be sprinkled all over the bottom, anus and vagina areas. Hot wax is then spread over all these areas and then ripped off with cotton strips.
The end result is a smooth and hairless area with little regrowth for weeks, without having to worry about razor burn, shaving bumps, chemical depilatories, or (heaven forbid!) unsightly stray hairs.
The particular individual described in the case report, however, already had untreated type 1 diabetes–a risk factor for a number of infections, including those caused by group A streptococci (Streptococcus pyogenes). This is the bacterium responsible for "strep throat" as well as serious invasive disease, including streptococcal toxic shock syndrome (STSS) and necrotizing fasciitis (the "flesh-eating disease.") In the days following her bikini wax, she came down with a fever, and had swelling and pain in the waxed region (along with a "copious vaginal discharge.") Still, she didn't seek medical attention for another week, when she was in really bad shape. She presented to the ER with not only "grossly swollen" external genitalia, and pain so extreme that she had to be put under general anesthetic just so her physician could perform a gynecologic exam. She was so swollen that, according to the legend to Figure 1 (which you can find online, as the article is freely available), "she was unable to pass urine, and the vaginal space was obliterated by edema."
Ouch.
The patient also had a rash over her chest and neck. From these clinical signs and the subsequent isolation of S. pyogenes from a urine culture and sample of the vaginal discharge, she was diagnosed with streptococcal cellulitis and toxic shock syndrome, and was also found to have an active herpes simplex virus type 1 infection.
The doctors treated her with a panel of antibiotics (and antivirals, when they found the HSV-1 infection), and she left the hospital after 10 days of treatment.
You might think the story ends there. You would, of course, be wrong:
Six months later, the patient again attempted to remove her pubic hair by shaving herself; however, she had difficulty visualizing the area. She subsequently developed a recurrence of herpes and cellulitis of her vulva. She was readmitted to the hospital and was treated with valaciclovir and penicillin, and her condition improved…Despite her traumatic experiences, the patient was keen to undertake further removal of pubic hair.
The paper is as much about the psychology of beauty and the lengths one will put themself through as it is a report of the infection. STSS can be a deadly infection, especially when it is complicated by necrotizing fasciitis. Yet despite her recurring streptococcal infection, she was "keen to" submit to future hair removal procedures.
The fact is that there's no perfectly safe way to do this, especially for someone with her strikes against her–diabetes (which already compromises her immune system), and history of streptococcal infections. It's noted that when she originally was waxed, even though it was carried out at a beauty salon, that there was still significant pain involved, along with vulval bleeding. Each of these abrasions creates an entry portal for colonizing microbes, which can then lead to an invasive infection. Additionally, salon employees may have no knowledge of these risks, or training in ways to minimize them:
Beauty salons can offer a range of innovative therapies, the complications or infectious risks of which are little documented. Facials that involve manual comedone extraction, dermabrasion, or harsh chemical peels pose the risk of infection and are often performed without the use of gloves. There are no uniform standards for infection-control practices in beauty salons in some countries and, although certain health departments publish guidelines regarding infection-control practices, these are variably enforced. Random sampling of nail salons in England demonstrated low rates of hepatitis B immunization among technicians, poor use of gloves, reuse of single-use instruments, and inadequate knowledge of universal infection-control precautions.
Finally, this paper provides the best line I've ever seen in a science journal: "In addition, pubic hair can be styled into various designs and can be dyed." However, no figures for that one–bummer.
Literature Cited
Dendle, C. et al. Severe Complications of a "Brazilian" Bikini Wax. 2007: Clinical Infectious Diseases. Vol. 45: page numbers forthcoming. Link.
Image from http://www.suddenlyslimmer.com/images/spa_uploaded_images/Thumb12_24_2006Queenwaxing.jpg
*Yes, I am aware that some guys wax as well, that they're a growing market and all that jazz. I still think it's mostly a female thing, though.