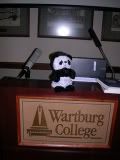 A looong time ago, I mentioned that I spent St. Patrick's Day weekend in Wartburg College in Waverly, Iowa, at a symposium I helped to plan (but neglected to blog! Oops). Along with other scientists, theologians, philosophers, and generally interested persons, we worked for a bit over a year to put this symposium together. Why?
The principal aim of the conference is to clarify the causes of the conflict between science educators and those who wish to have Intelligent Design taught in public schools. We do not claim to be neutral on this issue. We are convinced that ID is not good science and should not be presented as such. Our position is consonant with that of the National Center for Science Education and the Iowa Academy of Science. We believe that the polarization of opinion on this issue has created misunderstanding and confusion and that a clarification of terminology and concepts is essential for productive dialogue and decision making.
How did it turn out? Find out more below…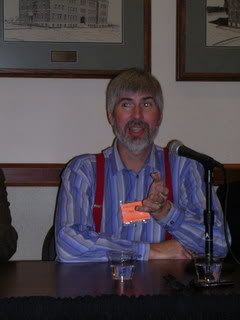 We wanted to make this more than just a lecture or two. As the name of our group suggests, we really wanted to get a dialogue going, whatever their position might be regarding science or religion. We arranged the conference around three keynote speakers. Friday evening featured Panda's Thumb contributor extraordinaire Wesley Elsberry, who gave an overview of the history (and demise) of creationism and intelligent design.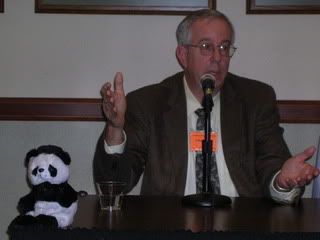 Saturday morning began with a lecture by theologian John Haught of Georgetown University, on reconciling science and religion. Haught discussed his views as a philosopher and a Catholic on how he views the interaction of evolutionary biology and religious thought (you can get a feeling for his views in this essay).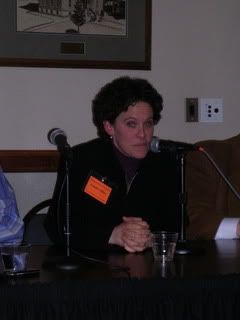 Dover, Pennsylvania biology teacher Jennifer Miller (home of the Kitzmiller vs. Dover trial) gave the last talk of the symposium, discussing the events that took place in her district in 2004-5 during the whole intelligent design controversy. A panel discussion with all the speakers followed Saturday's talks.
On Saturday, symposium attendees were also given their choice of three workshops, allowing them to break up into smaller groups for more in-depth discussion of a number of topics. I helped lead a workshop expanding on what Wesley spoke about (and giving an introduction to those who'd not been able to make his Friday evening talk). Other workshops focused on critiquing the "science" or theology of intelligent design; the history of the religion/science conflict (if, indeed, one exists…), and how to relate the two areas; interpreting Biblical creation stories; God after Darwin; and lessons from the Kitzmiller vs. Dover trial. We seemed to get a good mix of school teachers, theologians/clergy/Sunday school teachers, college professors and professional scientists, and just folks who'd heard a bit about "intelligent design" and wanted to find out what the big deal was. From my vantage point, the workshops seemed to go over very well. I know in ours, at least, we had some good discussions running (including such topics as the politics of ID, how scientists should respond to it, etc.), and I talked to a number of participants throughout the symposium and all had encouraging feedback.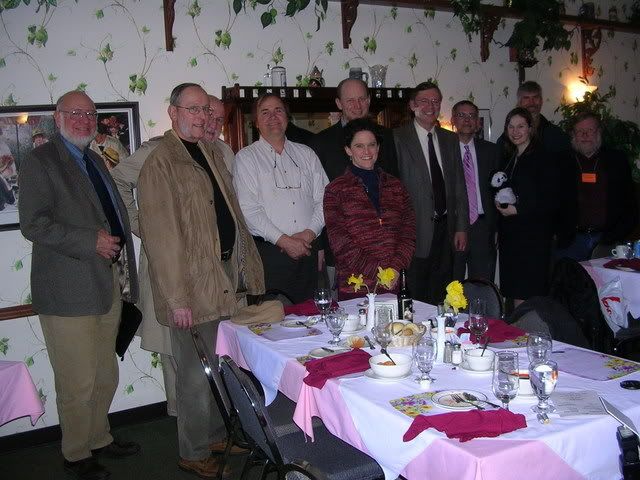 Of course, all work and no play would make for a rather dull time. Prior to the start of the symposium, the group met up for some dinner in Waverly.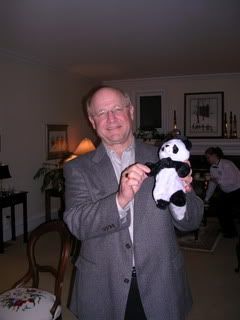 Following the final panel discussion, the president of Wartburg, Dr. Jack Ohle (at left–a native Ohioan who attended an undergrad institution near my hometown of Findlay, Ohio…small world) invited all the planners and speakers to his house for some dinner and conversation. Professor Steve Steve, of course, was an integral part of the festivities, and got to meet up with Wartburg biologist Steve Main, who proudly wore his NCSE "Scientists named Steve" T-shirt.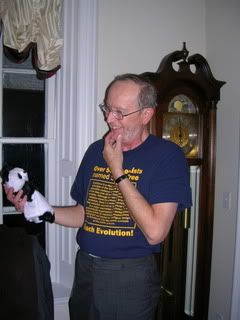 Others who were instrumental in bringing together the conference included Wartburg theology professor Brian Jones (below left), who served as the unofficial president (and secretary) of our group, pulling everything together. Craig Johnson (bottom right), a man of many hats (meteorologist, TV personality, professor,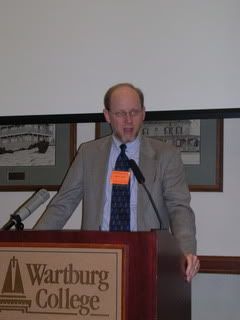 and executive director of the Iowa Academy of Science) served as the master of ceremonies, and also narrarated the DVD that was distributed at the conference. (More information about the DVD at the symposium link; contact me if you're interested in buying a copy, as I believe extras are still available).
Overall, the conference was an excellent experience. I know there has been discussion here recently about how scientists should approach religion, and I'm not a religious person myself, but it was great to see that so many of us with such varied personal beliefs could all work for a common goal–keeping science education top-notch in Iowa and the U.S.