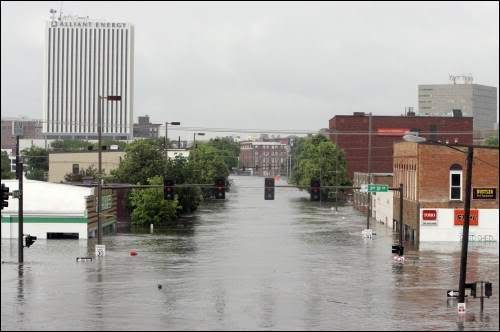 Photo of Cedar Rapids, Iowa
The university has now canceled all classes through June 22nd, and told all "non-essential" employees to stay home. The town is almost impossible to navigate as bridges across the river have closed one by one. And it's not only in town; interstate 80 and 380 both have closed in places, where they cross over the Iowa and Cedar rivers, making travel in the area near impossible. To make things worse, river levels aren't even predicted to reach their high until Monday (assuming current rain forecasts hold). Luckily, we have some plans in place…more on that after the jump.

I've talked a lot about pandemic planning (mostly in the context of influenza), and taken a lot of flack for contributing to the "hype" of H5N1 or other potential pandemic viruses. However, as I've said previously, preparedness is about any disaster, not just flu–and because of our natural disaster, we're testing our own system right now. Power is out in many areas, people lack access to clean water (and Cedar Rapids is down to one functioning well; it could take weeks to get back up to normal function), trucks carrying supplies are unable to get in/out of the area because of all the bridge closures, and people can't get into work, so the hospital has the potential to be understaffed. (I couldn't get over there today and didn't want to contribute to the traffic congestion anyway, so I stayed at my lab across town). In Cedar Rapids, Mercy Medical Center evacuated over 150 earlier today; the city in total has evacuated 24,000 at this point.
Additionally, my lab might be powered down. (The University power plant has shut down, though much of the campus' power is supplied by another company). We're supposed to have emergency back-up, but no one knows just what will happen at this point. Additionally, we're near the state hygienic laboratory, which handles sample testing for the state. If there are any waterborne disease outbreaks, samples which need to be tested could skyrocket, while at the same time employees there also may not be able to get into work. Therefore, we're readying for the potential implementation of some pandemic plans–plans that have only been prioritized because of all the media attention over the past several years to avian influenza.
Is it going to be easy or smooth? From communications so far, nope. We can all communicate now via email to check on things that need to be maintained in the lab, but email might go, so we're back to the old-school phone chain if that happens. The next several days look to be all about playing it by ear and adapting quickly to whatever is thrown at us.
Update 4:40 PM CST: and now to add insult to injury, severe thunderstorms across the region…
Image from http://tinyurl.com/4kyk6y